Posted Sunday, October 31, 2021
Check out our previous blog  "Why Home Health is Expanding HHVBP" by clicking here.
Following determination by CMS that the Home Health Value Based Purchasing (HHVBP) pilot generated meaningful quality improvements and spending reductions, it is expected that HHVBP will commence nationally starting January 1, 2022.
While it may seem that providers who participated in the 9-state pilot have a "leg up", the lessons learned and best practices that led to quality improvements and spending reductions not only establish a roadmap for providers new to operating under HHVBP but also positively influenced modifications to the HHVBP program as it heads for nationwide use.
Providers who have been monitoring the HHVBP pilot and its criteria should, however, be on the lookout for a significant change in the benchmarking process.  Assuming the home health rule for 2022 is finalized in the same way as the draft released in late June, calculation of total performance scores will, instead of being compared within your state, will be compared to other organizations nationally. Given the variability among states, this could be a significant change for all states.
In Florida for example, total performance scores in the 75th percentile score were lower than Maryland's 25th percentile score. The variability between states related to scoring was significant.  Pilot states should be aware that their historical performance may not be predictive of performance when compared to nationally.
Similar to this change, there are other important aspects of HHVBP that will be changing from the pilot, so now is the time for providers to do their homework!
KEY NEXT STEPS TO TAKE TO PREPARE:
*Look at your organizations' performance for the year 2019 for the draft HHVBP measures (see draft indicators below)
*Compare your 2021 scores for the same indicators to the baseline year of 2019 which will give you an indication of how your organization may fare in the 'improvement' scoring for HHVBP
*Compare your 2021 scores to the national scores for 2019 (benchmark) which will give you an idea of how you may fare in the 'achievement' scoring for HHVBP going forward.
*Based on the data from above, your organization can now identify which measures may need the most attention and develop a performance improvement plan to address them
*Set targets for improvement and track monthly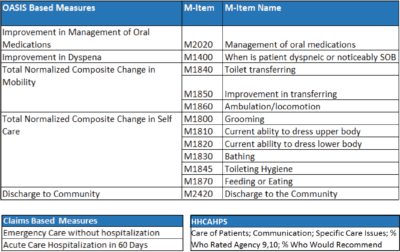 Corridor is here to support you as prepare for the HHVBP Expansion! Whether you need assistance with review of OASIS items or assistance with performance improvement activities, we are here to help you.
Contact Corridor today.
About Corridor
For over 30 years, Corridor has partnered with home-based care providers, delivering powerful solutions to support the unique challenges of caring for patients in the home. Our team of operating executives, clinicians, and nationally renowned industry experts have run provider organizations and resolved the same challenges you face.
Focusing on key operational, regulatory and financial challenges, Corridor delivers solutions and deep expertise in coding, clinical documentation, compliance, billing and education.
To receive the most important industry updates, insights and news impacting home health and hospice, please make sure to sign up for our weekly newsletter.