Policies and Procedures Manuals
for Home Health and Hospice
Policies and Procedures Manuals for Home Health and Hospice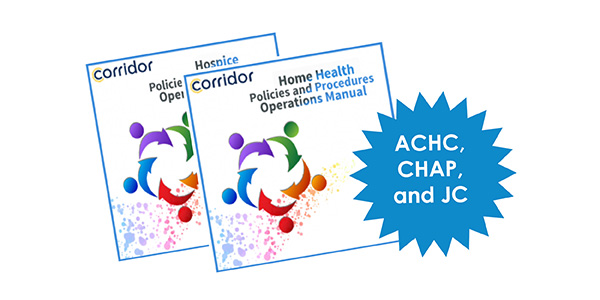 We've done the hard work for you!
Corridor's industry-leading Home Health and Hospice Policies and Procedures Manuals are designed to help your agency maintain regulatory compliance, meet accreditation standards and effectively manage operations regulations so you can provide high-quality care to your patients.
Corridor's manuals are easy to navigate and customizable, allowing you to tailor them to meet your agency's specific needs. Available for ACHC, Joint Commission and CHAP
Maintaining manuals with the most current regulatory requirements is a priority for Corridor. This ensures our clients meet the highest possible standards for their organization. All manuals include one free year of updates delivered on a bi-annual basis. Additional updates available for purchase.
"Corridor's Home Health and Hospice Manuals meet and/or exceed our CHAP Standards Of Excellence. Their policies are detailed, and the crosswalk is a great reference for agency use."