Whether you're looking to optimize your organization's internal compliance processes or to understand outside risk factors (including acquisition target risks), Corridor's Healthcare Compliance Services can help. Working side-by-side with you, Corridor identifies your areas of internal or external compliance risk, help build a road map of execution, and fortify your business operations to deal with increased regulatory scrutiny.
CorridorComply
CorridorComply is a comprehensive third-party compliance program assessment that assists in the development, implementation, and review of a corporate compliance program.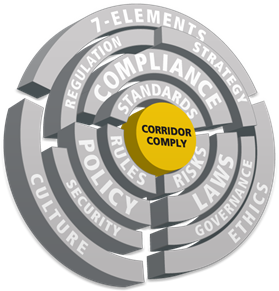 Based on the OIG's 7 Elements of an Effective Compliance Program, CorridorComply will provide a third-party compliance program evaluation, identify potential areas of compliance program vulnerabilities, and assist the Compliance Officer in developing an annual work plan.
CorridorComply uses a web-based, comprehensive assessment tool to validate necessary components of the OIG 7 Elements, and mitigates the potentially negative impact of a government investigation.
Corridor's post-assessment workshop helps shape a healthcare compliance plan that becomes your roadmap for success. Contact us to learn more about CorridorComply and ensure your non-acute healthcare organization is on a strong path towards compliance excellence.
State & Federal Audits
Corridor experts can assist your organization both proactively and responsively with state and federal compliance audits. Corridor can help ensure that your organization is prepared and ready for survey and/or investigation. Conversely, Corridor is also prepared to help you quickly respond to surveys or government investigations so that consequences are minimized.
Survey Readiness
Non-Acute organizations must be ready at all times for a surveyor to walk through the door. Being prepared can be difficult due to the day-to-day operational issues that dominate your time.
Corridor's team can assess your organization's operations for potential weaknesses, utilizing an effective approach to prepare your organization for the survey process. We can conduct mock surveys for specific standards to identify any potential deficiencies prior to a surveyor arriving, and meet with your team to put an action plan in place.