Corridor Campus solutions provides the home health, homecare and hospice industry with a one-stop shop for quality education. Corridor offers a variety of educational solutions to optimize your organization's greatest resource – its people.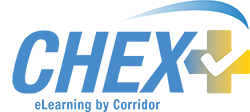 Proper training and education is a vital component to ensure success in any organization, especially in the non-acute care industry where change is the only constant.
Corridor's robust eLearning solutions offer easy access for clinicians, managers, and office staff to stay up-to-date with annual mandatory education, orientation training, regulatory changes, continuing education, and more. Corridor offers web-based courses to meet your organization's annual mandatory requirements, training, and orientation needs. It is designed specifically for the home health, homecare and hospice industry. CHEX by Corridor is technologically superior and an innovative approach to ensuring compliance to mandates from the federal government and accrediting bodies.
CHEX provides:
Quality evidence-based training, allowing for increased efficiency, productivity, and staff satisfaction
A comprehensive and interactive education solution
A world-class customer service and support team
No software to buy or install
CHEX is easy. Contact Corridor to receive a free online demonstration of all that CHEX has to offer.
Webinars
Corridor offers a wide-variety of webinar presentations that focus on industry specific issues and relevant regulatory information presented by industry experts. Corridor webinars provide home health, homecare and hospice providers important industry concepts through an engaging approach that includes videos, PowerPoint, and additional collateral. Attend a live webinar or purchase a prerecorded version to view at any time.
Training
Corridor's training will keep your staff up-to-date on areas impacting home health, homecare and hospice providersy. Corridor's training focuses on essential, specific skills for home health and hospice organizations.
Online Training
Corridor's virtual classroom provides downloadable Learning Series, webinars, and DVDs, many of which include supporting materials.
Onsite Training
Corridor's onsite training includes Nuts & Bolts© for home health and hospice agencies and associations. Corridor offers consulting engagements to assist in planning and implementing operational excellence so that clients have the expertise needed to remain competitive and profitable.