When it comes to deciding which home care software solutions you might implement for your hospice organization of home healthcare business, there are no shortages of choices. Having a comparison of the various offerings can be helpful in determining which solution might work best for your agency's needs. To help you decide which might be best for you, below find eight of the most popular software options and their features.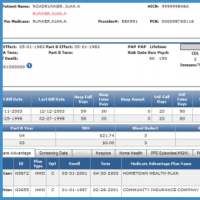 eSolutions developed Aegis, a web-based agency management system for home care and hospice businesses like yours. Aegis allows you to accept referrals, admit patients, schedule and verify the services you provide your patients. Aegis' intuitive interface makes training of your staff easy and quick. Its user interface has a well-thought out events-driven work flow which assists your staff in completing tasks more efficiently. Improvement also occurs with better communication while paperwork redundancies reduce or get completely eliminated with the Aegis system. Other features exclusive to Aegis include: OASIS entry and transmission, payroll verification and processing, and comprehensive billing to all payers. Esolutions also makes it easy to integrate other products it offers such as a robust Claims Management system designed to reduce denied claims and increase your staff's efficiencies.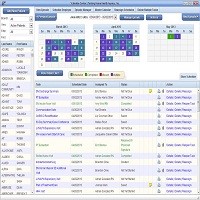 All modules are fully integrated. Clinical, Administrative, Billing, Scheduling, Human Resources, Reports and much more. It is a complete, powerful and user friendly software, so you can focus on patients not paperwork. It can help improve patient outcomes by empowering your clinicians with all the tools needed at the point of care. Axxess has easy and intuitive scheduling tools for easy real time collaboration and effective patient coverage. It's billing interface can process claims electronically and get paid faster with multiple payer sources. It can generate custom and automated reports to help grow your business, streamline operations and ensure compliance. Axxess is a web-based technology that makes it easy and convenient to access anywhere, anytime, and on any platform.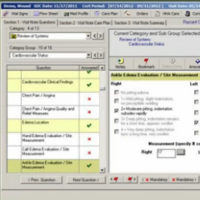 CareAnyware commits to making a difference for your home health agency and hospices. Now you can get back to your purpose of care while CareAnyware provides technology and solutions in their Workflow and Communicate modules. These modules keep everyone connected while eliminating inefficiencies and the costly steps between care delivery and claim submission. CareAnyware's proprietary CareTouch Logic exceeds other systems which simply recreate paper forms on the computer screen. You will easily identify areas which can be improved by using their exclusive Performance Lab Analytics benchmarking reports. CareAnyware also provides industry-leading training opportunities to aid your staff as it evolves over time. Additionally, the extensive knowledge base known as CareAnyware University provides free resources when you partner with CareAnyware.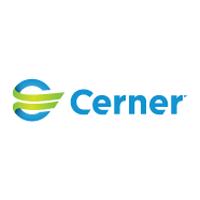 Cerner designs its solutions to increase operational efficiencies, maximize reimbursements while reducing the time it takes to recoup monies, and generally improve your patient outcomes. Key benefits associated with choosing Cerner Home Health Care Solutions include: a completely paperless electronic medical record and digital media archive, reduction in errors with medication reconciliation, and staff satisfaction increases with Cerner's intuitive work flows. Manage the entire life-cycle of your patients with Cerner's Hospice Care solution. On-screen prompts, links and warnings help foster consistency in documentation and regulatory requirements. Quick scheduling features and graphic representations of your facilities are easily displayed using the Census Management module. Cerner has even developed Automated Bereavement Planning software to make it easy to comply with all forms of bereavement regulations. Focus on delivering quality, cost effective healthcare outcomes to your patients and community with Cerner Extended Care.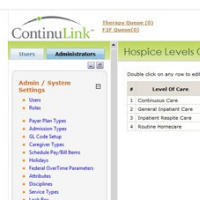 Over 7000 users touching over a half a million patients every month use ContinuLink, a powerful web-based solution that handles the complex billing, point of care and scheduling needs of home health care & private duty. ContinuLink is a comprehensive web-based solution that is specifically designed to meet the needs of businesses in the home health care industry. Some of the features included in the software are specially designed Point of Care devices, integrated telephony and Google Maps, a portal for both family and caregivers and robust billing applications, to name a few. In addition to Point of Care, billing and scheduling, ContinuLink also includes functions for managing HR records like licenses and certifications.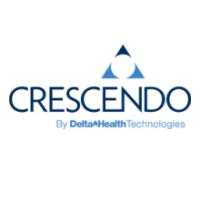 Crescendo, Delta Health Technologies new generation of home care software finally provides a single solution for your business to create and view patient-centric electronic medical records for home, health, hospice and private duty businesses. Another affordable solution from Delta is their AppointMate online scheduling software. By integrating telephony you can easily oversee your entire staff and all scheduling needs of your business. You know how important scheduling, billing and accurate recording of clinical documentation can be for the success of your business. Delta's Encore platform simplifies financial and compliance tasks with a seamless support system for your home care or hospice business. Delta Health Technologies even provides its end-of-life patient care, RhapsodyCare at no cost for their basic functionality of helping you track admittance, referrals and sensitive clinical documentation.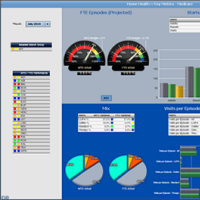 Created by those who have been on the front lines of home care and hospice, Home care Homebase puts you in a position to improve cash flow while maintaining the best for your patients. Solutions include rich mobile applications which provide real-time communications and secure data exchange between your office and field staff. With Home care Homebase you get to choose your preferred wireless carrier and Android-based mobile equipment. Their Knowledge Link provides for sophisticated financial, operational and marketing data analysis to aid in increasing your bottom line. The option even exists for creating online forums, known as Family Link, which provides family a convenient online resource for information exchange.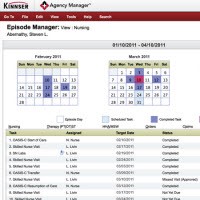 Founded in 2003, Kinnser Software is an award-winning home health software solution. As a powerful web-based point of care, administration and billing system developed specifically for home health agencies, Kinnser provides innovative user-friendly technology to over 40,000 users daily. By improving the collaboration between physicians, nurses and office staff, this award-winning package makes it simple for every member of the team to provide the utmost care while maximizing their time and the agency's resources. More than 40,000 agency personnel use the web-based Kinnser for powerful point of care, billing and administrative tasks. Agency Manager unifies everyone in the care cycle, from clinicians and therapists, to billing personnel and office staff. It provides automatic Medicare eligibility checks, secure claims submission, real-time dashboards, as well as instant Medi-span drug database screening, fast scheduling, OASIS checks and more. K-mail, their internal messaging system attaches messages about care directly to the patient's chart.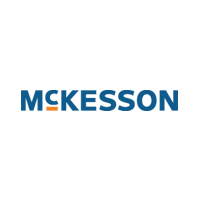 Formerly Horizon Home care, the new McKesson Home care understands that clinical success is just as important as financial success. You will think like a clinician with McKesson's patent-pending clinical management system. With agency management systems in place, you will be able to shorten the revenue cycle by streamlining front-end processes. This McKesson software helps expedite payment by providing for payer diversity and billing rules your business needs to follow. Additionally, the McKesson Hospice Agency Management software provides you with myriad of options relating to the documentation of interdisciplinary teams and makes easy the tracking of personnel, even volunteers. Your home health agency deserves the quality and support of McKesson Home care.
ANOTHER OPTION — OUTSOURCE TO CORRIDOR
Today the home care and hospice industry face considerable challenges; pressure on reimbursement, billing complexities, intense regulatory scrutiny, increasing competition and rising operational costs. With change being the constant, you need innovative, real-time solutions and business intelligence that enables efficiency, compliance and improved bottom line results. Corridor stands ready to help you successfully address the challenges that home health agencies are faced with today to ensure sustainability through the changes of tomorrow.
We are a leading provider of Revenue Cycle Management, Strategic Oversight and Project Consulting solutions for home care. Leveraging over 25 years of experience and demonstrated outcomes, our mission is to inspire successful transitions that enable our clients to maximize profitability and achieve better outcomes. From end-to-end support for the daily challenges you confront, to valuable strategic advice and oversight for critical functions, the stability and skill of our team translates into predictable results and peace of mind.
We invite you to navigate our web site to Explore the Possibilities with Corridor.
Corridor experts are standing by to help you achieve your goals. You can reach us at 
1-866-263-3795 or by completing the contact form below.
[vfb id=1]