Corridor is your trusted business partner for better solutions in home health, hospice and homecare.
Get expert insight, the latest industry news and exclusive offers straight to your inbox!
OUR HOME HEALTH & HOSPICE SERVICES
For over 30 years, Corridor has partnered with home-based care providers, delivering powerful solutions to support the unique challenges of caring for patients in the home. Our team of operating executives, clinicians, and nationally renowned industry experts have run provider organizations and resolved the same challenges you face. Learn More

Coding and Documentation Review
Our experts become part of your team to improve accuracy, quality and turnaround time to ensure the reimbursement you've earned.
Outsourced Coding, OASIS Review, HIS, NOE, NPA, Pre-Bill, F2F
Clinical Documentation Improvement (CDI) Services
CorridorPulse™ Actionable Analytics

Revenue Management Services
Optimize your revenue cycle and improve cash flow by making sure you're paid timely and accurately.
End to End Revenue Cycle Assessment
Old/Legacy A/R Recovery
Outsourced A/R Billing and Collection Management
ADR Management

Clinical Documentation Advisory
Mitigate financial and compliance risk via "deep dives" into your clinical documentation to assess current procedures, learn best practices and educate your staff.
Periodic Audits: CoP Compliance, ADR/TPE, OASIS, 5-Star
Billing: Clinical and Technical Review
Review Choice Demonstration Support

Products and Education
Elevate your staff's knowledge and ensure compliance with Corridor's resources for education and operational success.
CHEX+ eLearning
On-site Education
Operational Success Programs: 5-star, CDI
Industry Leading Policy & Procedure Manuals, Reference Guides, Quickflips™
Review Choice Demonstration
CMS resumed Review Choice Demonstration (RCD) for Illinois, Ohio, and Texas. In North Carolina and Florida, RCD will officially begin on September 1, 2021. Our team of industry experts are ready to assist you with RCD requirements so you can focus on patient care.
Patient Driven Groupings Model
Is your agency doing everything it can to thrive under the Patient Driven Groupings Model (PDGM)? We're here to help you tackle any hurdles while ensuring compliance, fair reimbursement, and improved patient outcomes.

Explore Corridor's line of manuals and guides to help your organization stay educated and compliant. Our line of industry-leading policy and procedure manuals, quick reference guides, and Quickflips™, deliver turn-key solutions to help your organization stay up-to-date and compliant in Coding, Regulatory Compliance, and Operations Excellence.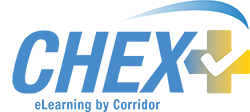 CHEX+ eLearning offers an easy-to-deploy, cost effective solution for keeping your staff up to date on the education they need. With over 600 eLearning courses tailored specifically for home health and hospice, your annual mandatories, continuing education (Nursing, PT, OT and SLP) and just-in-time learning has never been easier.
Sign-up for our newsletter: