November 4, 2022
CHAP: COMMUNITY HEALTH ACCREDITATION PARTNER AWARDS CORRIDOR'S HOME HEALTH AND HOSPICE POLICIES AND PROCEDURES MANUALS "CHAP VERIFIED" STATUS.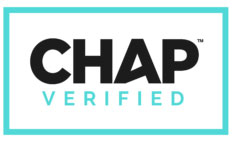 [Overland Park, KS] CHAP is pleased to announce that Corridor's Policies and Procedures Manuals have achieved CHAP Verified status, granted to tools and resources used by community-based care providers that, through rigorous inspection, show no roadblocks to executing the CHAP Standards of Excellence, and innovate to improve the delivery of high-quality care.
CHAP conducted a thorough product survey to verify that Corridor's Policies and Procedures Manuals allow organizations to meet the intent of CHAP's applicable standards.
"Corridor's Home Health and Hospice Manuals meet and/or exceed our CHAP Standards of Excellence. Their policies are detailed, and the crosswalk is a great reference for agency use." – Teresa Harbour, SVP Accreditation at CHAP
For more information on CHAP Verified Status or any other inquiries – email info@chapinc.org
CLICK HERE to shop Corridor's Manuals Now!

About Community Health Accreditation Partner (CHAP)
CHAP is an independent, nonprofit organization accrediting providers of home and community-based care. Founded in 1965, CHAP was the first to recognize the need for and value of the home and community-based care standards and accreditation. As a Centers for Medicare & Medicaid Services (CMS)–approved accrediting organization, CHAP surveys organizations providing home health, hospice, and home medical equipment services to establish if Medicare Conditions of Participation and DMEPOS Quality Standard are met and recommend certification to CMS. CHAP's purpose is to partner with organizations nationwide to advance quality in the delivery of care and services in the home and community.
About Corridor
For over 30 years, Corridor has partnered with home-based care providers, delivering powerful solutions to support the unique challenges of caring for patients in the home. Our team of operating executives, clinicians, and nationally renowned industry experts have run provider organizations and resolved the same challenges you face.
To receive the most important industry updates, insights and news impacting home health and hospice, please make sure to sign up for our weekly newsletter.
Explore Corridor's Solutions
Share This Story, Choose Your Platform!