Posted Tuesday, October 11, 2021
It's important to understand the background that provided the momentum for why CMS has proposed to expand the nine state HHVBP pilot nationally effective January 2022.
The CMS Innovation Center (also known as CMMI) was established in 2010 with a goal to improve the quality, and reduce the expense, of health care.
Beginning in 2011, CMMI introduced multiple payment model initiatives that sought innovation from health care providers including hospitals, physicians, home health, and ACO's. How exciting that designing the best way to improve quality and decrease spending was placed in the hands of those who provide the care!
In a February 2021 New England Journal of Medicine article written by Brad Smith who is former Deputy Director of CMMI, he states that of the 54 CMMI models that were launched over the past 10 years, only 5 resulted in substantial financial savings.
A big shout out to the home health industry, given that one of the 5 that did save Medicare dollars was the nine state Home Health Value Based Purchasing Pilot (HHVBP). The average improvement for quality scores with the HHVBP pilot was 4.6% and 141 million dollars in average yearly savings. Much of the dollars that were saved for HHVBP related to decrease in utilization of health care services which mainly related to declines in re-hospitalization of home health patients.
In CMS discussions with over 60 organizations from the nine VBP states, agencies communicated the HHVBP initiative really did improve the quality of care for their patients. While they were initially concerned about balancing changes in Conditions of Participation, Star Ratings, Review Choice Demonstration, Targeted, Probe & Educate along with managing the focus on VBP indicators, ultimately they found that there was overlap in how they managed these priorities.
What does the proposed HHVBP expansion measure?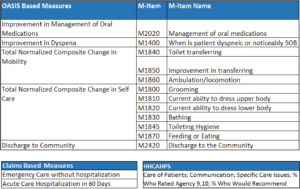 How are scores developed?
Based on the weighting of the measures above, HH organizations would receive a total performance score (TPS) based on their performance as compared to itself (improvement score) and as compared to other organizations (achievement score). The higher of the two is the score that constitutes your TPS. The base year utilized for the comparison starting January 2022, will be performance in the calendar year of 2019. Based on your improvement/achievement scores will dictate whether you win or lose up to 5% in dollars for 2022 which will be reflected in 2024.
What should you do next?
Gather your scores for the measures above.  The calculation of these scores is available via your partner for quality outcome measurement, or agency VBP reports if you're in a VBP state currently. Stay tuned for Corridor's next blog on HHVBP which will provide next steps to take to prepare for the expansion!
Sue Payne, Home Care Strategies Advisor, Corridor
Source: CMS HH CY 2022 Proposed Rule
About Corridor
For over 30 years, Corridor has partnered with home-based care providers, delivering powerful solutions to support the unique challenges of caring for patients in the home. Our team of operating executives, clinicians, and nationally renowned industry experts have run provider organizations and resolved the same challenges you face.
Focusing on key operational, regulatory and financial challenges, Corridor delivers solutions and deep expertise in coding, clinical documentation, compliance, billing and education.
To receive the most important industry updates, insights and news impacting home health and hospice, please make sure to sign up for our weekly newsletter.
Explore Corridor's Solutions
Share This Story, Choose Your Platform!